Public Input, Stakeholder Participation

Shoji integrates stakeholder participation as a basic element of planning. She facilitates large and small group meetings and other communication processes to gather and incorporate perceptions from all parties. Education is incorporated and common values are identified to facilitate understanding.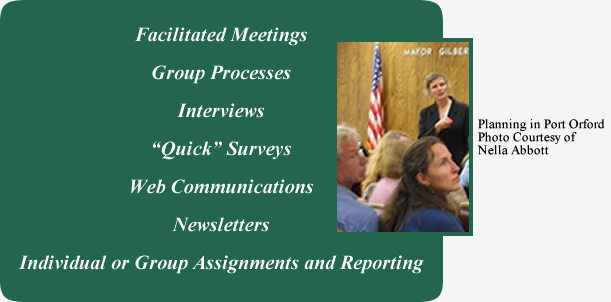 Facilitation and Public Input Examples*

SHN Consulting Engineers & Geologists, Inc.: Facilitated pre-application meetings with state and local officials to explore requirements for Comprehensive Plan and Zoning Amendments, and permitting for worker housing to be located within the City of North Bend, 2013-2014.

South Coast Marine Reserves Recommendation Committee, Reedsport to Bandon: Facilitated monthly meetings (approximately 40 participants), and town hall meetings in Reedsport, Charleston and Bandon to formulate findings and recommendations for presentation to the Oregon International Port of Coos Bay 2010-2011.

Alternative Youth Activities, Inc: Completed Organizational Values and Strategies and Executive Director Search Guide. Facilitated meetings with the Board and staff to complete this plan, 2010.
Oregon Coast Community Action: Partnered with Oregon Coast Community Action to develop When We All have Homes, Coos County 10-Year Homeless Plan. Facilitated meetings with broad based stakeholder groups, developed goals and strategies and organized document for Governance Board approval, 2008-2009. Facilitated visioning and strategic planning with the Oregon Coast Community Action Board of Directors, 2014.

Coos Bay Public Library: Facilitated workshops, prepared public involvement survey, and documents for the Coos Bay Public Library Board of Trustees and the community, 2000, 2005, and 2011.

*All Oregon Projects